Membership
Cranbrook Aquatics Swimming Club (CASC) was established in 2020 and is a fun and competitive Swimming Club that competes at MetSEA (Area), Metropolitan, State and National Championships.
The club is based at Cranbrook School's Murray Rose Aquatic & Fitness centre and is an affiliated Swimming Club with Swimming Australia, Swimming New South Wales and Metro South East.
All Cranbrook Squad members are required to join Cranbrook Aquatics Swimming Club and have it listed as their preferred club. All swimmers under the age of 18 are also required to have a parent registered as a Dry / Supporter member.
Joining CASC provides access to (depending on membership category):
Squad training at Cranbrook School's Murray Rose Aquatic & Fitness Centre
External competitions
Interstate competitions
Community programme
NSW/Australian ranking
Club night racing
Social events
One free Club swimming cap
| | |
| --- | --- |
| Non-Swimmer (Dry Member) | $55.00 |
| Club Swimmer (Club nights only) | $161.00 |
| Full Swimmer (Competitive Swimmer) | $189.00 |
| Second Claim Swimmer | $60.00 |
*Prices current for the membership year ending 30 September 2023
How To Join
To become a member, you need to create a Swim Central account by going to www.swimcentral.swimming.org.au and following the links to create a new account.
Once the account is created follow the steps below to join the club.
Select shopping cart
Search 'Cranbrook Aquatics Swimming Club'
Select membership type. At this point you may or may not have the 'add to trolley' button highlighted. If it is not highlighted, you need to go to the top of the page and select the lock. This will ask for a 4-digit pin. Entering your pin will allow you to add items to your trolley.
Add to trolley
Go to trolley
Pay
If you have any difficulties using Swim Central to join CASC, please use the Help function in Swim Central or contact Swimming NSW for assistance. Cranbrook School staff are unable to assist with any problems you may have with Swim Central.
Uniform
CASC members are required to wear uniform when representing the Club at swimming meets. It is strongly encouraged for swimmers to wear their CASC Swimming caps at all training sessions. Uniforms can be purchased through Swim Central – Store Merchandise https://swimcentral.swimming.org.au/
| | |
| --- | --- |
| Swim cap | $20.00 |
| T-Shirt | $30.00 |
| Hoodie | $80.00 |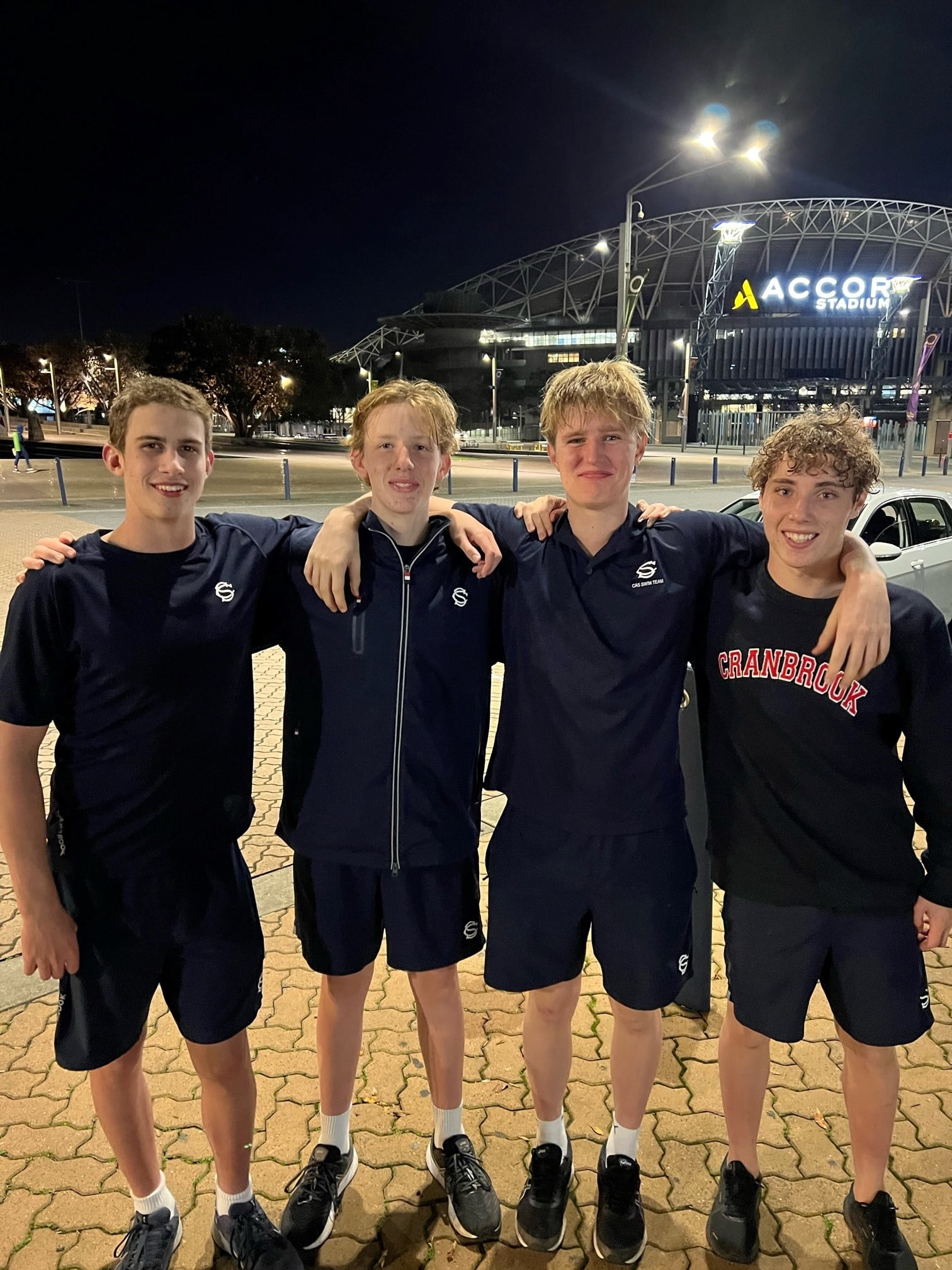 Cranbrook Swim Meets
Please click here to see the 2023-2024 Summer CASC meet calendar.
The Club requires a number of technical officials and committee members to help with the delivery of CASC Swim meets.
There are many roles to fill such as:
Fundraising Officer
Uniform Officer
Timekeepers
Marshals
Race Starter
Meet Referee
No experience is required and there are many people on hand to help teach you the roles. Without technical officials there are no Swim meets. No Swim meets means, effectively, no sport! Not only is officiating a great place to see the action in the pool you can be confident that you are helping the development of NSW swimmers and their clubs.
If you are interested in volunteering to assist with the operation of CASC please email CASC@cranbrook.nsw.edu.au
Results