Our approach to curriculum places emphasis on looking forwards and outwards. We were the first major Independent School in Sydney to become an IB Continuum School.
Our Senior School curriculum promotes balance and diversity, with all our Senior School students provided with an academic framework which encourages independent thought, and where academic growth is prioritised over the rehearsal of a textbook.
Senior School students are offered a range of pathway orbiting English, Maths, Science, the Humanities, Languages and within the Creative Arts.
Years 7-10
We teach the NSW curriculum through the lens of the International Baccalaureate Middle Years Programme's (MYP) philosophy and framework. The MYP is inquiry based, cultivating an independence of thought and encouraging every student to take responsibility for their learning.
The MYP wants to ensure that knowledge and skills are universal and transferable. This means that the understanding and skills students develop are not fixed within a particular academic subject, but can be applied to new and diverse situations and disciplines. For instance, each MYP unit poses a universal and transferable 'statement of inquiry' that explores the meaning of an important conceptual understanding, as it applies in a specific, real-world context.
The MYP programme empowers students to inquire into a wide range of issues and ideas of significance locally, nationally and globally. The result is young people who are creative, critical and reflective thinkers. It builds on the knowledge, skills and attitudes developed by the IB Primary Years Programme (PYP) currently being delivered by Cranbrook Pre-Schools and Cranbrook Junior School.
The MYP provides a structure for the nature and purpose of the Years 7-10 curriculum.
To meet the requirements of both the IB and the NESA, in Years 7-8 students study within a common curriculum.
To meet the requirements of both the MYP and the NSW curriculum, students in Year 7 study the following subjects:
English
Mathematics
Science
PDHPE
History
Geography
Music
Visual Arts
Drama
Design and Technology
Religious Studies
2 Languages (choice of French, Latin and/or Mandarin)
Students in Year 8 study the same common curriculum as in Year 7, with the only change being that one of the two chosen 2nd languages is dropped. The other continuing language will be studied at least until the end of year 10.
The curriculum in Years 9 and 10 allows for students to add two 'elective' courses to their study within the common curriculum.
To meet the requirements of the NSW currciulum and the MYP students stuty:
English
Mathematics
Science
History
Geography
PDHPE
A continuing Language (French, Latin or Mandarin)
Religious Studies
Students can then choose two electives from the following list:
iSTEM
Physical Activity and Sports Studies (PASS)
Big History
Global Studies
Commerce
Music
Drama
Photographic and Digital Media (PDM)
Design and Technology
Visual Art and Design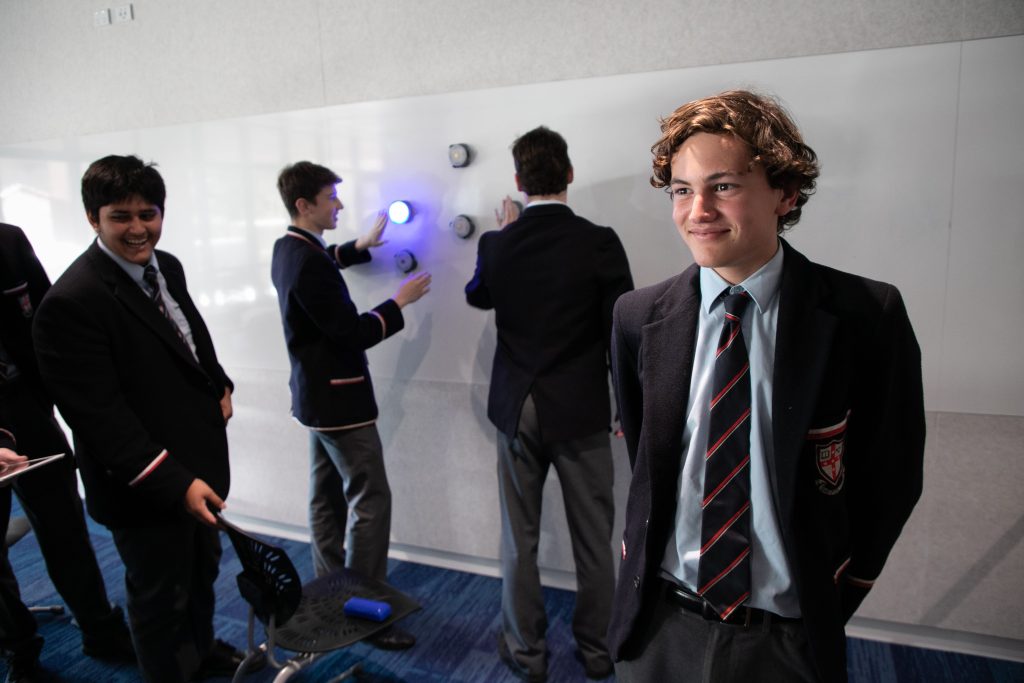 Years 11-12 :
Our emphasis on creating independent learners from Prep all the way to Senior School means our students not only win places at universities, but flourish there.
Moving into their final years, Cranbrook Senior School students are provided two pathways of their choosing: The IB Diploma Programme and the Higher School Certificate (HSC). Both of these academic avenues differ in the mandatory requirements, but both are taught in a secure, supportive environment that prioritises active learning and individual growth.
The HSC is recognised as a tertiary entrance credential in Australia, and to a lesser degree overseas. Students undertaking the HSC begin the prerequisite pathway in Year 11, before continuing into the assessed portion in their final year.
HSC students are required only to do one compulsory subject: English. Beyond that, the HSC allows a wide range of fields to explore. In Year 11 subjects studied must be to the value of a minimum of 12 units and in Year 12 students are required to study a minimum of 4 subjects and a minimum of 10 units. A non-ATAR and vocational programme of study is offered to some students.
Students at Cranbrook are offered additional subjects to complete in their HSC assessments including: Ancient History, Biology, Business Studies, Chemistry, Chinese Continuers, Construction, Design & Technology, Drama, Earth & Environmental Science, Economics, Engineering, French Continuers, Geography, Latin Continuers, Legal Studies, Mathematics, Modern History, Music, PDHPE, Software Design and Development, Physics and Visual Arts.
The IB Diploma Programme focuses on experiential learning and equips students with the skills required for tertiary education, promoting a spirit of intellectual inquiry.
The Diploma encourages breadth of study with students required to take courses within six clearly defined subject groups.
There is the mandatory study of the Theory of Knowledge (a course on critical thinking and knowledge), the completion of the Extended Essay (an in-depth study of a question relating to one of the subjects they are studying) and the completion of experiential learning under Creativity, Activity, Service (CAS) (experiential learning).
Building on the PYP and MYP years, the Diploma has an explicit focus on the development of skills, including those of self-management, organisation, collaboration, research and advocacy.

Courses offered in the IB Diploma Programme include:
Group 1: Literature, and Language and Literature
Group 2: Latin, French, Mandarin, Japanese ab-initio, Spanish ab-initio
Group 3: Economics, History, Global Politics, Geography, Psychology
Group 4: Biology, Chemistry, Computer Science, Design Technology, Environmental Systems and Societies, Physics, Sports Exercise and Health Science.
Group 5: Mathematics: Analysis and Approaches, and Applications and Interpretations
Group 6: Music. Theatre, Visual Arts
Gifted Programme
Our gifted programme uses a combination of in-class differentiation, acceleration and enrichment to cater for the needs of these students. The School uses a range of assessment data to identify gifted learners, from standardised entrance testing to psychometric testing. In addition the School considers parent and teacher nomination, interview, and reports of achievement, effort, interest and work ethic.
Cranbrook Teaching and Learning provides the means for in-class differentiation across all subjects, so that all learners have the opportunity to reach their potential, by providing specific learning in higher-order thinking skills.
Cranbrook offers Mathematics acceleration and English enrichment courses for those students identified from testing to be considered gifted. Other provisions support the development of gifts into talent through our range of academic, creative and Co-Curricular activities on offer. These include clubs, academic competitions including the Da Vinci Decathlon, Debating, Choirs and Musical Ensembles, as well as Team and Representative Sport.