We believe that swimming is an essential life skill that provides children with the ability to participate in sport, and swim in the ocean, lakes and pools in a confident and safe manner.
At the Murray Rose Aquatic & Fitness Centre, our Swimming lessons are designed to the public and are designed a lifelong skill to improve your child's confidence in the water, build swim safety awareness and provide a pathway into aquatic sporting programmes such as Squads and Water Polo.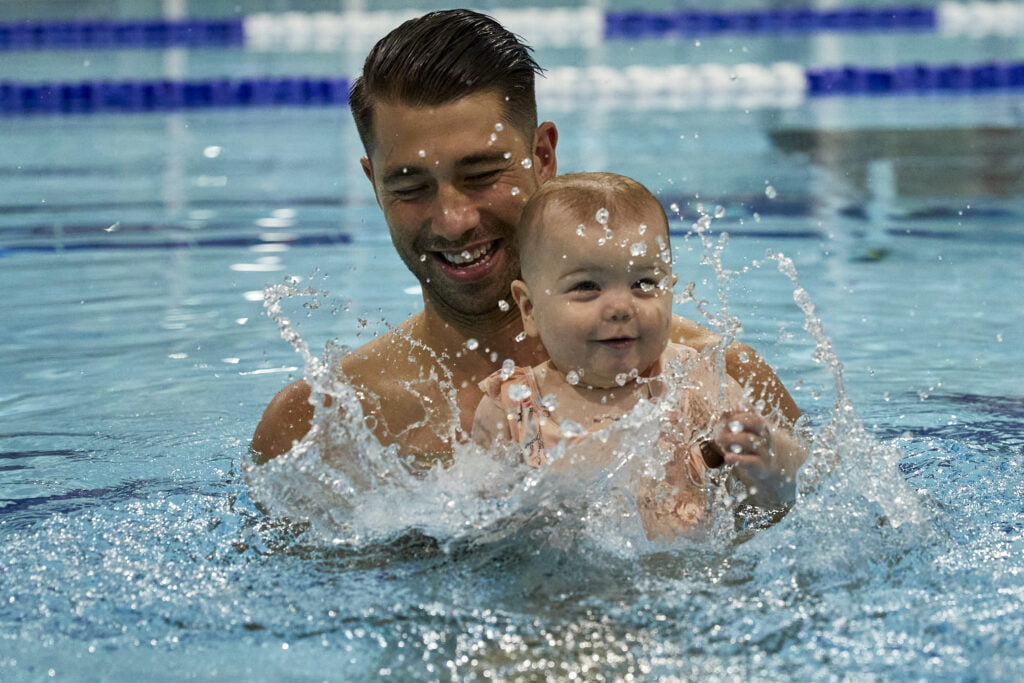 Key points for Cranbrook Swimming Lessons
Open for Cranbrook Students and wider community
On-going perpetual programme – 48 weeks of the year
Enrol any time
30 minute swimming lessons
Fortnightly direct debits
Progressive structure and individual tailored programmes for:

Infants – 6 months until 18 months
Toddlers – From 18 months to 3 years
Pre School – 3 to 5 years
Primary – 5 to 12 years

Live tracking of your child's progress on your home portal
Online registration and payment updates
Teaching is based on maximising participation time
Teaches critical water safety components
Framework covers the technical proficiency of all four competitive strokes
How To Join
3 simple steps
1. Determine your child's swimming ability
Use the tables below to determine your child's swimming ability according to our framework
If you are unsure of your child's swimming ability and would like a free assessment, please email LearnToSwim@cranbrook.nsw.edu.au
2. Use the registration links below to create a home portal account. This account will allow you to register multiple students and live track your progress. Gmail – check the promotions folder. Yahoo and other emails – check the junk folder.
3. Once registered, our Learn to Swim team will need to verify your registration and child's swimming ability. Arrive on time for your first lesson and your child will be assessed in the first five minutes to ensure the correct level has been chosen. This will verify the account, or our team will advise of a new level.
* Please note – Refunds will not be provided for incorrect assessments. If your child is incorrectly classified by you when registering, we will offer you the correct class level, however this may not be the same day and time as registered.
Home Portal
Here you can set up an account, track progress, view availability, book and purchase on-going lessons and holiday courses. Once you have booked your first lesson you will be able to manage lesson bookings and course progress online.
The benefits include:
Records of achievement
Live progress reports
Ability to book and pay online
One account for multiple children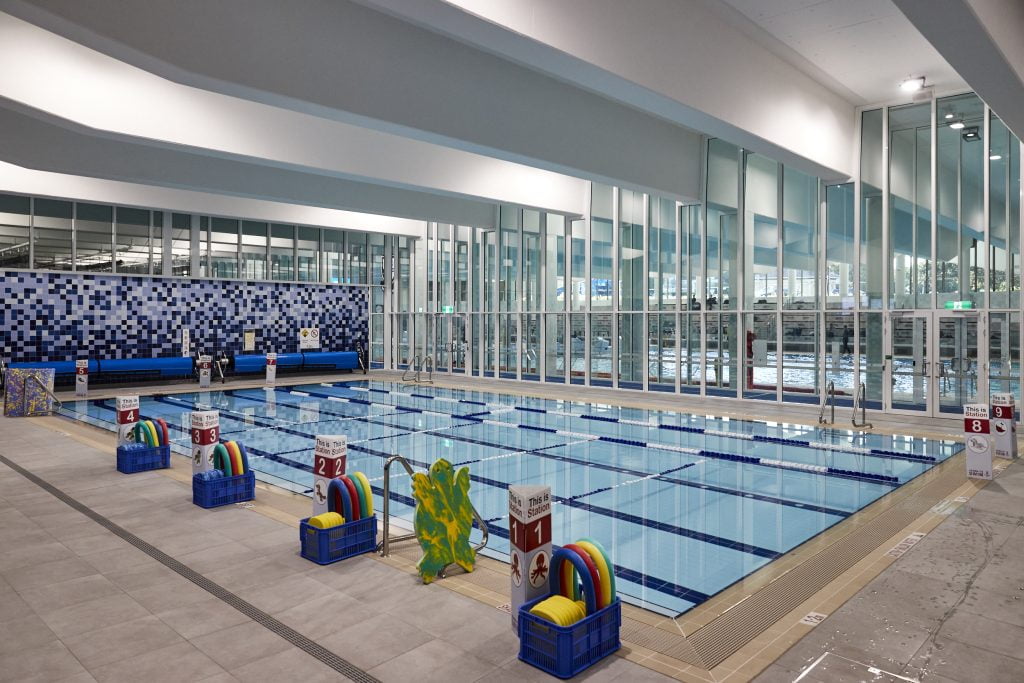 Contact us
Phone: 02 9184 9244
Email: LearnToSwim@cranbrook.nsw.edu.au
Our Programmes
Infants and Toddlers
This class is for infants from 6 months old to 18 months old.. An adult must accompany the child in the water at all times. Lessons focus on promoting early water confidence, water awareness, safety and basic motor skills. The aim of the class is to introduce children to the water, basic breath control through cueing and communication in the water through songs and activities.
* Swim nappies are compulsory
* Cranbrook endorses safe teaching practices and submersions will only be permitted once the child learns cueing and has complete a minimum of 4 lessons.
This class is aimed for Toddlers from 18months to 3 years old. An adult must accompany the child in the water at all times. Lessons focus on continuing to build water confidence, safety, basic motor skills and introduce independent movement. This is where they learn cues and gain an understanding of survival skills. They will learn safe entry and exits into the pool. Kicks and paddle arms are a good learning curve for when they move into a Pre-school class at 3 years old which is taught without an adult in the water.

* Swim nappies are compulsory
* Cranbrook endorses safe teaching practices and submersions will only be permitted once the child learns cueing and has complete a minimum of 4 lessons.
Pre-School
Preschool 1 is aimed for children aged 3 to 4 years who are new to swimming lessons and/or are not yet water confident. Children will learn to submerge their face confidently, float on their front and back unaided and paddle and kick independently. This is the entry level class starting with the basics of Learn to Swim.
Continuing with safe entry and exit into the pool, this is where they will be introduced to submerging and kicking on their front and back.
This class is aimed at children aged 3 to 5 years who have completed Pre-school 1. Children must be water confident, they have learnt how to submerge their face confidently, can paddle with kick and can float independently on their front and back. Children will be taught big arms, the starting stage of freestyle and independent back kicking.
Once the child has turned 5, they will transition into our school age programme, Level 1.
School Age
This is an entry level class for children 5 years and over. Level 1 develops basic water safety awareness and the development of essential swimming skills. Children will learn front streamline kick, back kick with arms by side in correct body position and the introduction of freestyle arms.
Level 2 is a stroke correction-based level. This level focuses on continuing to develop water safety skills and the introduction to freestyle with a side breath and backstroke arms for 8m Children will learn vital water safety skills such as survival backstroke, treading water and the introduction to diving starting with a seated dive.
Level 3 is focused on freestyle and backstroke correction whilst maintain technique for 18m. Freestyle bilateral breathing will be taught and the continuing development of correct backstroke timing. They will be introduced to breaststroke kick and should be proficient in Breaststroke kick before progressing to level 4.
Children will learn a crouch dive, front sculling and how to perform a forward somersault.
Level 4 will be an introduction to breaststroke arms and developing correct breaststroke timing. Butterfly kick will be introduced with a large focus on correct kicking techniques for all four competitive strokes
Children will continue to develop their freestyle and backstroke technique with correct starts, body position and timing for 36m. They will continue to develop water safety skills, of front sculling with forward propulsion, diving and freestyle tumble turns.
Level 5 will be an introduction to butterfly arms, performing the full stroke with correct timing. Children will continue to develop freestyle, backstroke and breaststroke technique with an introduction of correct starts, underwater pull-outs, turns and finishes over 50m.
The level is for a length of 45min and taught in the 50m pool.
Children will learn water safety skills focusing on various water rescues, treading water and diving.
Level 6 is the final level of the Learn to Swim programme and provides preparation for Squad based sessions. Butterfly breathing is introduced completing the development of all four competitive strokes.
Children will develop effective techniques for all four strokes, with an emphasis on correct breathing, timing and race legal starts, underwater pull-outs, tumble turns and finishes over 100m. Children will learn medley order, how to read a pace clock and diving from the blocks.
Teen Swim
Teen swim is aimed at swimmers aged 12-16 who need to learn stroke proficiency and water safety skills. The programme is tailored to the individual needs of each swimmer to ensure teens enjoy the learn to swim experience. Each teen may have different abilities and understanding of each stroke, the teacher will use differentiation teaching methods to ensure each swimmer gains improvement in each lesson.
Accessibility Programme
Cranbrook Learn to Swim offers an accessibility swimming program for those with additional needs and require 1 to 1 support. The accessibility programme offers a welcoming swimming atmosphere where participants feel safe, empowered and included building positive self-esteem in an Aquatic environment.
Our instructors are qualified and experienced in teaching participants with additional needs and believe in giving equal access and opportunities to all. We understand each participant requires individualised attention and the outcomes and aims will differ depending on the needs of the participant.
What the customer needs to know:
Lessons are designed for those who require 1 to 1 support and are not safe to participate in group lessons
Lessons are booking in 5 week blocks
30min lesson once a week
Lessons are 1:1 with qualified and experienced instructors specialising in the field of additional needs and water safety
Lessons are taught in either an 18m length pool, with a depth of 1.2m or if required use of the 50m pool will be available.
Instructors will have access to platforms, noodles, kickboards and other equipment to assist the participant if required
Swim School administration will assess the ability of all participants who enquire, to ensure the participants needs are met, and the participants ability is suitable for the accessibility programme. If requested, Swim School administration will work with the participants medical practitioners and may request medical documentation
NDIS lesson credits are managed by the customers. All participants will receive an invoice via email at the time of payment.
No refunds or credits issued for change of mind or missed lesson. Credits will be issued in the case of medical or illness with proof of medical documentation
*Accessibility lessons are only available for 5-week blocks. All lessons will be reviewed for integration into mainstream lessons at the completion of a 5-week block. If the participant requires on-going 1 to 1 support, back-to-back 5-week block lessons can be purchased.
Holiday Programmes
Holiday intensive classes are 1 to 1 swim lessons that run at the same time for 5-days from Monday to Friday. The programme is open to levels Pre School 1 to Level 6 and are designed to fast track your child's swimming ability. The 1 to 1 support will provide extra guidance, focus on stroke specific correction and help build the confidence of your child to gain the necessary skills and technique to move through our learn to swim programme.
Starts, Turns and Finishes clinics are designed to help develop essential race skills and prepare your child for their school swimming carnival or club swim meet. The private 1-1 sessions are open to all swimmers in level 4 or above in learn to swim and all squad members. Our fully qualified and experienced coaches will make sure your child is ready for all up and coming swim meets.
*Please note – squad members please select level 6 when enrolling
Coming Soon
Adult Programmes
For Adults who have little or no experience of basic water safety skills or swimming skills. The lessons will help adults feel confident in the water, understand buoyancy, floating and breath control. The lessons are taught in the Learn to Swim pool and adults will gain water confidence, whilst progressing to gliding in a streamline position and adding a propulsive straight leg flutter kick for 10 metres.
For adults who need to learn the competitive swimming strokes: Freestyle, backstroke, and breaststroke. The lessons are taught in the Learn to Swim pool and Instructors work on skills like stroke technique, maintaining a correct body position, propulsive kicks, streamline body and proper breathing skills and positions for 18 metres.
For adults who need stroke-specific correction including continuous development of the 3 strokes learnt under the intermediate stage. The lessons are taught in the 50m Pool and will introduce butterfly, tumble and touch turns, dives and endurance skills, in readiness for the progression to the Cranbrook Aquatics Swimming Club's (CASC) Master Squad.