At Cranbrook our students enjoy the advantages that come from joining a supportive community, with traditions that ensure continuity and stability.
We also celebrate the enduring centrality of the principles of the great liberal traditions of education which were intended to be the mainspring of our lives and learning here. However, great schools don't stand still. While schools need to ensure they don't fall prey to fads and fashions just as easily as other institutions, it is also evident that great schools lead and do not follow: they use their confidence, and their many advantages, to develop new initiatives and to explore opportunity, so that they can act as catalysts for reform and improvement in the wider sphere. At Cranbrook we are always looking at what we can strengthen, where we can grow and how we can ensure our School continues providing a world-class education.
Open to the World
Our vision is to be a world class School that helps students to develop a spirit of intellectual curiosity. We want to produce individuals who have a confidence and an openness to the world, relishing new challenges and places. With the addition of the International Baccalaureate (IB) Diploma Programme in 2020, Cranbrook became the first major Independent School in Sydney to become an IB Continuum School, and just one of six Continuum Schools in NSW. From Pre-School, all our students learn through the lens of the IB, and this continues with the Middle Years Programme in the Senior School. We want to develop skills that allow our students to thrive in an increasingly globalised world, and we have a deep commitment to an education that ensures students develop empathy and have the ability to engage with different perspectives.
Curriculum Diversity
The constraints of the School timetable can limit the capacity of schools to offer incremental curriculum diversity and the development of our Centenary Building is central to the success of our new Cranbrook Academy. The Cranbrook Academy, operating by the end of 2022, is an after School enrichment programme that will offer students a wider range of academic and Co-Curricular opportunities on campus, outside of the conventional School timetable. It will also provide opportunities for Cranbrook students to work alongside a more diverse cohort, including girls. As well as offering additional lectures, colloquia, and courses on a range of topics such as entrepreneurship and leadership, the Academy will also offer a mentoring programme for high performing athletic students. We are also establishing partnerships with cultural institutions including the Gothe Institute and Alliance Francaise. The Academy will also give us opportunities to further focus on staff development, including a Teacher Inquiry Programme to encourage and support action research projects.
Experiential Learning
Experiential learning is at the heart of what we do. We create authentic experiences to make learning interesting, personal and relevant in an interconnected world. Experiential learning impels students into the unfamiliar and more challenging situations to ultimately facilitate their growth and development. At Cranbrook our students undertake experiential learning in a variety of contexts, whether campus-based, project-based, work-integrated or in the community. We are developing a robust plan for experiential learning at our Wolgan Valley property, nestled between the Blue Mountains and Wollemi National Parks, built on research into flagship national and international programmes.
Exploring Coeducational Opportunities
Cranbrook continues to evolve to keep pace with society. In the years since Cranbrook was founded, the gender landscape of Australian society has changed dramatically. A coeducational school experience provides young people with the opportunity to develop the skills they will require to succeed in a coeducational world authentically and carefully, over time. From tertiary institutions to the workplace, from social to the civic sphere, men and women now work and lead together. Thriving in these contexts requires the ability to collaborate and to cooperate, to lead and to support, regardless of gender. We are moving to a more inclusive and egalitarian model of schooling, fit for our times. Not only will the Cranbrook Academy welcome girls, girls will join our School in Years 7 and 11 from 2026, so our whole senior campus will be coeducational by 2029.
The programmes the School has developed in recent years, including the Year 11 and Year 12 College, the Cranbrook Academy, our new facilities and experiential Wolgan Valley campus, will enable our coeducational offering of the IB Diploma Programme and HSC course to be a rich and fulfilling experience for all of our students.
---
Perspectives Podcast Series with Nicholas Sampson, Headmaster.
Our Perspectives podcast series: conversations between key members of our academic staff and our Headmaster, Nicholas Sampson.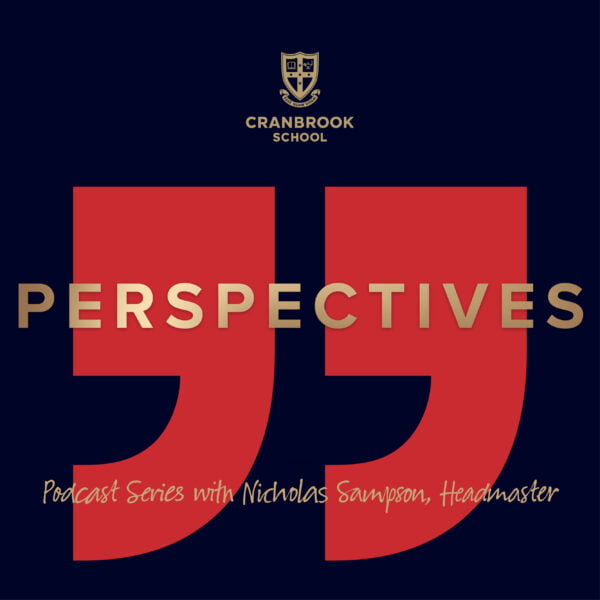 In this podcast, Michele Marquet, Head of Cranbrook Junior School, discusses with our Headmaster, how Cranbrook celebrates the whole child, the School's commitment to the elevation of truth, the development of self-knowledge and the creation of a better society. Providing personal insights and anecdotes from his teaching career, and own schooling years, Nicholas Sampson reflects on the vital importance of human interaction and connection in today's technological world.
---
EQV Articles
---
Headmaster's Senior School Assembly Address